Share the Love Update: September 8, 2017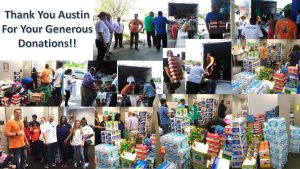 Hurricane Irma continues to slam through the Atlantic leaving destruction in its path. The storm is expected to hit South Florida by tomorrow and our Alorica sites along that region are braced for impact and readiness plans are in place.
Our Antigua site is on alert as Hurricane Jose heads their way. Currently, the site is not under hurricane warning but high winds and heavy rain are expected to reach their location by Saturday.
In the meantime, as we continue to monitor these hurricanes, our Alorica heroes are hard at work, rallying behind those who have been affected by the devastation of Hurricane Harvey.
The insanely great people in our Austin and Corpus Christi sites have gone above and beyond to help their family in Humble. The Austin volunteers not only packed up a truck with much needed supplies for the team members in Humble – they fed them lunch as well! In true Texas style, they pulled out the BBQ, with all the fixings!
Moved by the compassion shown by the Austin team, Tom Stuewe, VP of Operations in Humble, shared, "Thanks so much for your generosity and for taking the time to hand deliver everything so desperately needed by our Alorica team mates in Humble. You guys are awesome!"
The team in Corpus Christi is paying it forward. After receiving much needed assistance from our San Antonio site, they too are helping the Humble family. Their site has barely recovered from the damage caused by Hurricane Harvey and they are driving almost 250 miles to deliver much needed supplies. And with anticipated road closures the trip could take them over five hours to get there!
Thank you, Austin and Corpus Christi, for your amazing demonstration of love and support.
If you'd like to make a difference to those affected by the hurricanes, you can donate to the MLBA Disaster Relief Fund. Contributions can be made with a credit card or payroll deductions.
The incredible outpour of help by our MLBA Chapters has already raised over $136,000 towards the fund.
Keep on the lookout for additional updates and stories about true Alorica heroes.